Erongo's Light Shine's Brightest In DRC
Lovis Ngesheya, the outlier...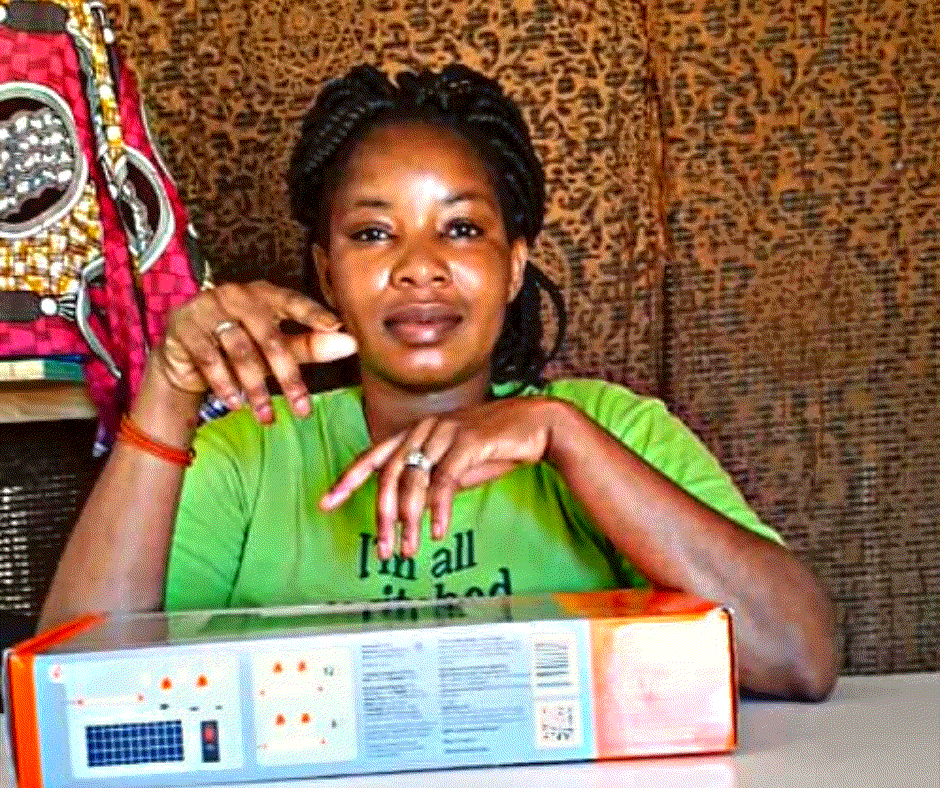 SUCCESS IN THE MAKING
Welcome to Olusheno.
We provide home solar systems to communities that have no access to electricity. We've supplied lights to countless households across the country.
Changing lives in the process.
However, what if we told you. That it's all just a drop in the ocean compared to our employment rate.
Currently we have over one thousand sales agents employed under Olusheno. They make all the difference on the ground as they roam the cities, in search of those in need of our services.
At the start of this year, Lovis Ngesheya was struggling to get by.
She had accounts at furniture stores that she had fell behind on, and other debts as well. In a brief interview with TSE Matthew Kalikenya, she said she did not know whom she could turn to to in her darkest hour. Lovis had submitted her CV to a lot of companies but barely got any interviews. The walls were closing in.

Towards the end of February she heard about the D100 solar bundle. Being from the DRC area in Swakopmund, Erongo. Not having access to electricity was one of Lovis' many headaches. However, the D100 became her first 'pain relief'. After finding out more about where to find it and how it works, she encouraged four of her friends to purchase their own solar bundles. 
Seeing her eagerness to spread the word about Olusheno, Gebhardt Endjala, who owns Joe's Home Shop in Swakopmund, approached her about becoming an agent for Olusheno. Joe's Home Shop is one of our acting branches in the Erongo region. Without too much thought, Lovis signed up as an Olusheno agent and before long became a welcome addition to our growing base of branches nationwide. 
Lovis now has four agents signed up. Sales agents, that now receive their stock from Lovis' small business called 'Mukwahepo Tuck Shop', also one of our recent additions. Lovis' has sold over 30+ units of home solar systems, and counting. She says it took her a little over four months to pay off her dues and start enjoying the fruits of her labor. Thanks to the opportunity granted by Olusheno, Lovis was able to turn her life around and motivate her peers to do the same for themselves.

'I encourage you to join Olusheno, as an agent, or as a retailer, it's for everyone. Olusheno can put extra money in the pockets of the working class and provide stability for the unemployed.'
This was Ms Ngesheya's response when asked whether she'd like to encourage anyone to make the same life-changing decision as her. Lovis says she's already applied for a Kazang machine, and is patiently awaiting it's arrival as she has noted how this will make life ten times easier for her d.light customers in terms of payments.
Chances are, you may have encountered an agent or two before. They may have told you about what we do and how you can reach us. Olusheno agents are easily spotted in our bright green/orange colors. Always with a leaflet in their hands and a smile on the faces.
Next time you spot an Olusheno agent feel more than welcome to ask about us.
You never know what may lie beneath the surface for you.
Our TSE's are always on the road, introducing our product through solar parties and door to door outreaches. You can find out more about these tours across the country on all our social media platforms. So if you're in need of light, all night. Be sure to follow us on social media to find out when our TSE's might be in a town near you.
Mukwahepo Tuck Shop: +264 81 616 1083 (DRC,Swakopmund)

Location : 22° 38' 30.0998" S 14° 33' 24.3"E

Facebook: https://www.facebook.com/olusheno
Instagram: https://www.instagram.com/olushenosalesdistributions/ 
Twitter: https://twitter.com/olusheno Official website: https://olusheno.com
For more information contact our dedicated call center team:
0819970000 (Toll-free) / 081 162 1091 / 081 145 4476 / 081 169 4729 / 081 145 5708
  💡It's light. All night.💡