Olusheno Makes The Difference
The light still shines...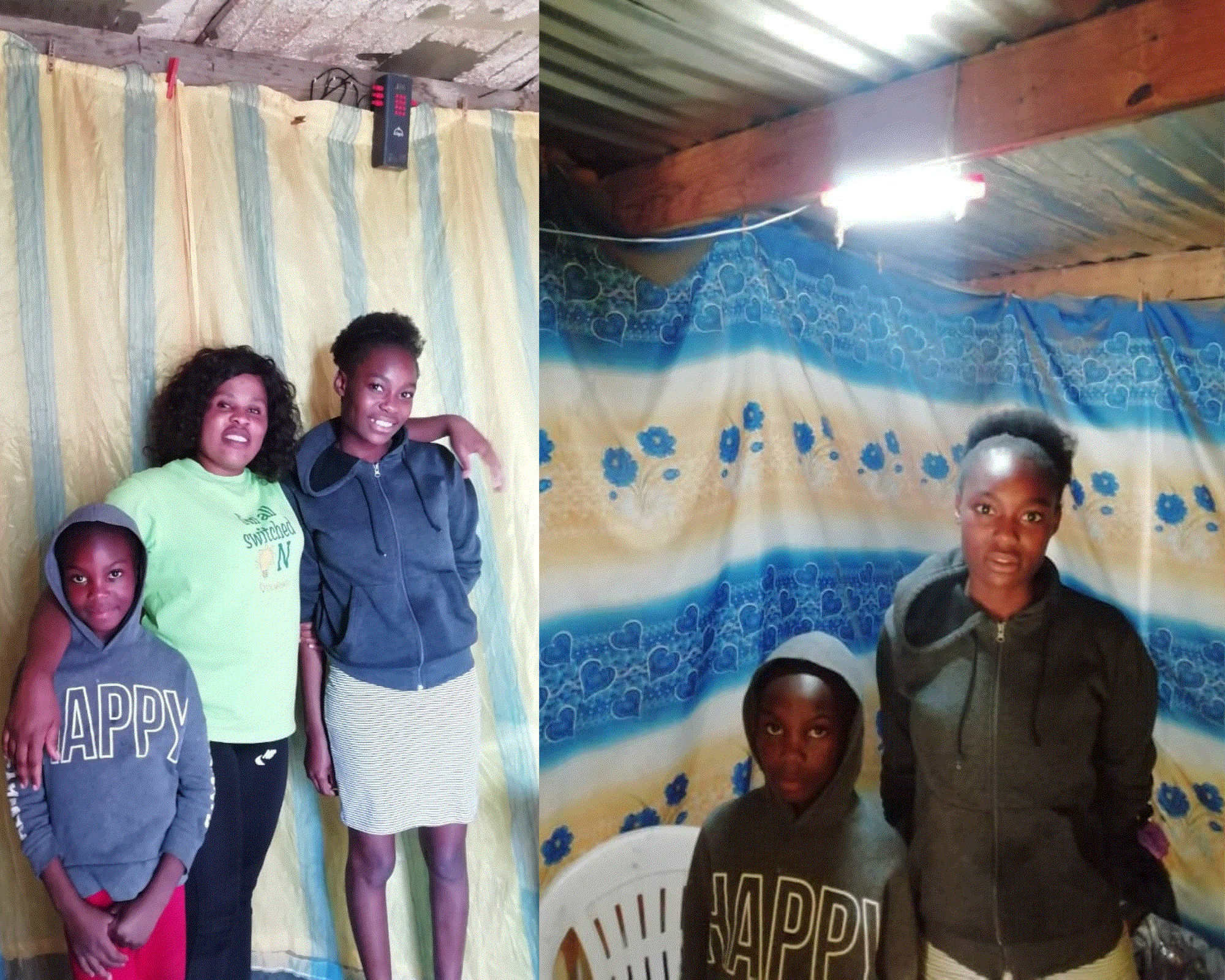 Ms
 Jao with her younger sister and an Olusheno agent(green shirt)
You've read about what we do and why we do it.
And we're sure you've heard about us from a friend or colleague. Sure maybe you've been encouraged to purchase an item from us, by a friend or family member. And you still might have doubts. 
Well if you do have doubts, we can assure you that ours, is a life-changing product. And we always try to make sure that all our current clients are well informed and well-equipped to utilize their d.light products.
But you don't have to take our word for it, take Ms Jao's. Rebecca Jao is one of our most recent clients. She has purchased the D180 Solar Bundle which is currently priced at N$4,500. This bundle includes a solar panel, two bulbs and one tube light, a base unit, a torch and an FM radio. Ms Jao has opted for the more affordable  financed  option, which allows her to pay N$350.00 over the course of 12 months. After she payed the N$500.00 deposit. Why is this a bargain? Once her  account is paid off, she'll have free access to her lights!
Ms Jao had grown content with using candles and off brand torches as a light source in her house. The costs of these lighting methods were a great financial burden for her. In addition, in order for her to remain reachable she had to walk long distances to keep her cellphone charged. 
Many residents of rural communities face similar challenges. Some worse off than others, unfortunately. What sets Ms Jao apart, is the fact that she sought to acquire a safer and more affordable alternative lighting source. This was when she found about Olusheno through our newly generated Instagram page. She phoned our call center and was connected with one of our trusted, dedicated sales executives, TSE Matthew.
In the small settlement of Twaloloka, Walvis Bay, there is minimal access to electricity thus making it difficult for residents to live as freely as they'd prefer. And since we're all about making things easier for our clients, Ms Joa knew that purchasing a solar bundle from us would be a crucial step towards providing a safer and brighter household for her family. She's been using our home solar system for six months now. TSE Matthew stop by to see how she was coping after making the transition from candle lit rooms to bright, solar-powered lighting. And she couldn't be happier to have made the switch.
She says she now feels at ease leaving her younger sibling at home knowing that the hazards of using candles are no longer of concern. And this investment has given her some financial breathing room as well. Ms Jao believes that a home should be a place of refuge. It is the place where one should feel safest in. And we could not agree more. 
Our TSE's are always on the road, introducing our product through solar parties and door to door outreaches. You can find out more about these tours across the country on all our social media platforms. So if you're in need of light, all night. Be sure to follow us on social media to find out when our TSE's might be in a town near you.
Facebook: https://www.facebook.com/olusheno
Instagram: https://www.instagram.com/olushenosalesdistributions/ 
Twitter: https://twitter.com/olusheno Official website: https://olusheno.com
For more information contact our dedicated call center team:
0819970000 (Toll-free) / 081 162 1091 / 081 145 4476 / 081 169 4729 / 081 145 5708
 💡It's light. All night.💡