Why Choose d.Light?
We have all the reasons...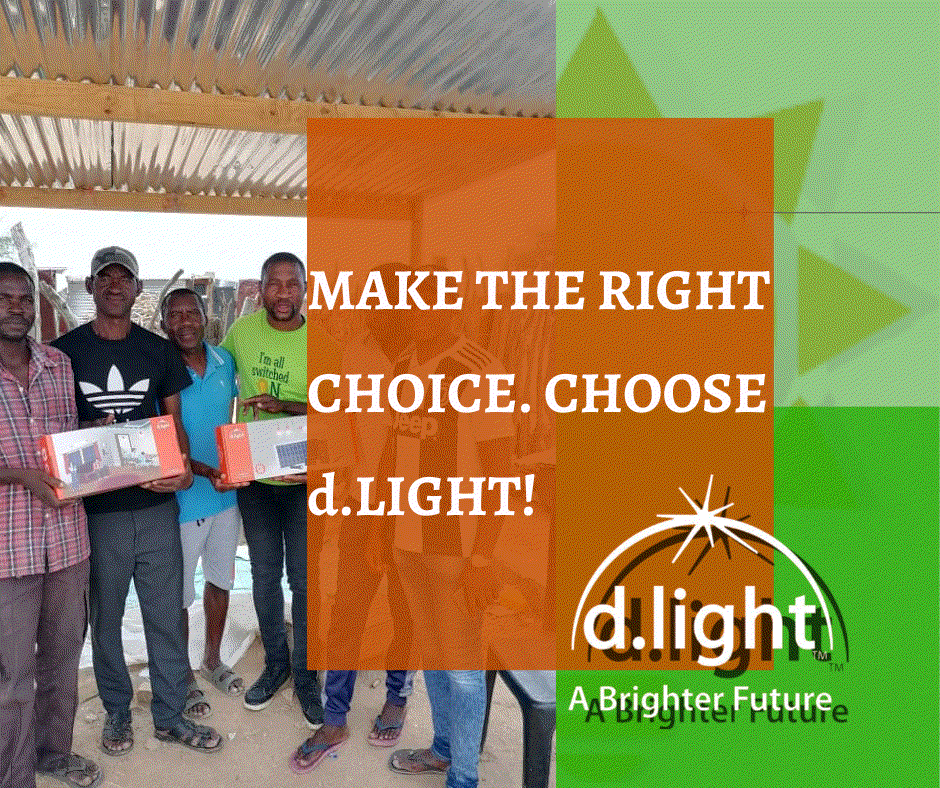 Are You Choosing Light, All Night? 
    34 000+ people across the nation have acquired our services, now's the time to join us!
Often times we encounter curious individuals who always ask why they should give preference to our d.light solar systems, above those in our industry. What the benefits are and whether it really is a good long-term investment? Today I'll share with you why going solar is the best choice for you. Besides the fact that d.light produces some of the world's most efficient solar products, solar energy will carry you when all other fossil fuels deplete. Let's hop into more detail, shall we?
Experience
d.light has over 15 years of experience working in the field with their customers to design products that best suit their needs. They employ top-tier engineers and designers to create products that improve the lives of customers. d.light products are water-resistant, weatherproof, and built to last over five years. Most of d.light's employees are in the rural communities that they serve. If d.light customers or dealers are in need, quality customer support and service are nearby. Similar to how we at Olusheno have retailers in various small towns in the country. Making the product easily accessible to the nation.
Reduced electricity costs
Fossil fuels are still the world's primary energy source. Among these are petroleum, coal, natural gas, and oil. As these finite resources deplete, their prices rise along with the cost to produce them which in turn increases consumers' electric bills. One of the great incentives of solar is that you'll be able to save money in the long run. While the initial cost of purchasing an off-grid solar energy system is relatively high, a user is paying for the equipment such as solar panels, inverters, batteries and wiring. Thankfully, the low monthly rates make up for it. Because we cater for all members of society. Off-grid solar energy relies upon the sun to provide the power needed because it costs nothing in monthly electric bills. The inception and popularity of LED fixtures reduce the need for paying for maintenance because it only requires changing the battery.
Avoid Power Outages with d.light
Power outages can occur without any warning. Losing electricity means living without lighting which can be an inconvenience short-term and incredibly stressful in the long term. Often, a power outage will be over as soon as it begins, but sometimes the loss of electricity can extend longer. At times, it can happen for a day or even weeks depending on the cause of the outages and the length of time it takes to restore service. The loss of power varies from storms, freezing rain, sleet storms and high winds which can damage power lines and equipment.
Off-grid solar energy systems are reliable for outage situations as these systems store energy and are always ready for potential disasters. A home with an off-grid solar power system can prolong having to experience blackouts amid any potential accidents. Your area might turn dark but your house will shine throughout the night with d.light!
Easier Installation
The equipment for solar systems has been falling gradually for the past decade, but the cost of an off-grid solar setup continues to rise steadily. Many people decide to hire a professional because of the seemingly complicated process. However, these d.light systems are not at all intricate/complicated. A homeowner with a set of tools can install it on their own, which can help reduce the overall system cost substantially.
Keeping the Environment Clean and Green
Burning fossil fuels don't just produce energy but drives the current global warming crisis as well. Since it produces large quantities of carbon dioxide when burned which traps heat in the atmosphere and leads to climate change. Compared with fossil fuel technologies, renewable energy sources such as off-grid solar-powered systems minimizes carbon footprint that keeps the air and environment clean. Nature needs all the help it can get which is why many people have decided to switch to solar.
Using off-grid technology would be helping provide electricity while reducing your consumption of fossil fuels, and this will also minimize the negative impact on the environment. It also helps that oil or gas prices going up won't matter because of this alternate solution. Experience the benefits of solar-powered systems that solve all your energy problems. D.light is dedicated to providing the most reliable, affordable and accessible solar lighting and power systems. And Olusheno is dedicated to making sure you can be a part of the solar movement.
If you've found this particular article insightful, then get to know more about us by following our social media platforms. We keep our followers well-informed on all things solar and all things, Olusheno! As we look towards improving our products and services for optimal customer satisfaction.
Social Media:
Facebook:https://www.facebook.com/olusheno/
Instagram:https://www.instagram.com/olushenosalesdistributions/
Twitter: https://twitter.com/olusheno
Official website: https://olusheno.com
For more information contact our dedicated call centre team:
081 144 5900
081 145 4476 
081 145 5708 
081 169 4729
081 162 1091 
081 997 0000
 💡It's light. All night.💡 
Olusheno Banking Details:
Standard Bank Namibia
Olusheno Sales and Distribution
Account: 60003460087
Branch code: 082372
Branch: Windhoek main branch.
First National Bank
Account: 62263481568.
Olusheno Sales and Distribution.
Branch: Windhoek Corporate Centre.
Bank Windhoek
CHK 8010102049
Branch Code: 483-872
Branch: Maerua Mall
Bank Windhoek Olusheno Sales & Distribution